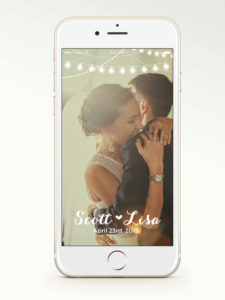 Snapchat has taken over our phones as the hottest social media platform of the moment. It gives you the opportunity to interact with friends and family in a fast and personal way. With the option to send photos or short videos, the possibilities are endless. The latest rage on Snapchat is all their fun Geofilters, from funny faces to intricate banners, they are coming out with new ones daily. The most exciting part? You can create your own Geofilter! Snapchat now allows users to request their own filter for birthdays, weddings or special events. Interested in getting your own? Here is how:
Go to the Snapchat On-Demand website, sign in, and carefully read their submission guidelines.
If the guidelines are agreeable and you want to move forward, Snapchat provides templates for Photoshop and Adobe Illustrator that make it quick and easy.
If graphic design isn't your forte, you could hire a professional for the task, especially if you've already chosen to employ a social media coordinator for your wedding.
Once you create and save the filter to your liking, upload it to Snapchat where you can further tweak it.
Select the dates to have your filter active. You can have it available just on your wedding day or for the whole wedding weekend! Technically you can have it up for 30 days, but that's likely unnecessary for this type of event.
Next, choose your area range, between twenty thousand and five million square feet. It can cover just your venue, or expand the radius to the hotels your guests will be staying and beyond.
You will then get a price estimate. The location of the filter affects price as well as the duration and area coverage, so be prepared to pay more if you live in a metropolitan area. Prices start as low as $5 but can be several hundred dollars an hour.
Happy Snapping!